Build New Habits to Improve Your Health, Work, and Life with a Fun, Social Experience
Smart Plans
Reaction's unique programs break intimidating goals into small, achievable steps that make make new habits stick
​
Coaching
Get the feedback and support you need to overcome obstacles and stay on track
​
Crew
Make real connections with your colleagues and cheer each other on as a Crew, all within the app
​
Set Yourself Up For Success with the Reaction App
Log in with your Google, Facebook or Apple account
Or scan this photo on your mobile device camera
Earn Points and Become a Community Leader
Complete tasks to earn points and move up your company's leaderboard. Each week, the top 5 members will be featured on the management panel as community leaders!
Share Your Journey, Motivate Others
Use the in-app camera to snap a photo to share with your crew after you've completed a task or program! Give it some flair and show your company pride by adding your company stickers.
​
​Fast Fact: 38% of existing members say seeing a post-activity picture from their crew has motivated them to complete their own tasks. What are you waiting for?
"Using the Reaction Club app made me understand that making new habits stick is not about willpower. It happens when we set ourselves up for success with the right program, guidance, and support. I'm grateful that my company is offering us such a great tool"
"I've already tried more than 4 programs on the app, and all of them were just great! They helped me improve my health, work, and life. But most importantly, doing programs as a group and meeting others in our organizations makes it so much more fun"
— Natalie L, San Francisco
Frequently Asked Questions
How do I start using the Reaction Club App?
---
The Reaction Club App is accessible exclusively by invitation from your employer or coach. Click on the invitation link or scan your QR code to login. If your invitation isn't working please contact us. Watch this video to learn how to login and get started!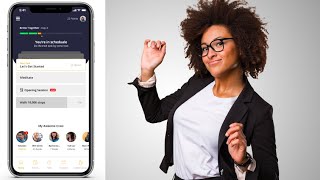 ---
How does the point system work?
---
You can earn points for completing tasks in your plan: 1 point for completing a recorded task and 2 points for joining an event. (live session and/or a meetup) Points are a fun way to evaluate you and your coworker crew's progress and engage in some friendly competition! Watch the leaderboard to see who is working hard and come up with your own reward system offline!
---
Who is Coach Anna?
---
Anna is our digital coach assistant born and raised in the Reaction AI labs! Anna's goal is to assist real human coaches to help people become better versions of themselves. If your employer hasn't found a coach yet, Anna will help you!. Anna can analyze your progress and help you stay on track. But please bear in mind that Anna is still learning human language, so her feedback might feel silly sometimes. However, she will learn and try her best to support you until a real coach can replace her, and she can step aside as an assistant.
---
Can I participate in more than one program at the same time?
---
No, our programs are designed for you to complete them one at a time. Once you finish a program, you can feel a real sense of pride before you move onto the next! Staying focused on one plan increases your chances of completing it by 5X.
---
How much time am I given to complete my tasks?
---
At the top of your program screen, you will see your program's task tracker. You can see which week/day of the program you are in and receive a push to complete a task on time. Once you start a plan, the clock starts ticking! To keep yourself accountable, make sure you finish all of your tasks before time is up and it moves to the next task.
---
Can I go back to previous tasks once the time has expired?
---
You can complete the tasks in a current step as many times as you want. After you completed a task, you can find in the task screen an option to redo the task. However, to move a step forward or backward or pause your program, you will need to ask your coach to do that for you from the ReactioncCoach app.
---
Can my coach see my progress?
---
Your group coach has a dedicated coach app that sends a notification when you complete a task or when you are inactive for 5 days or more. Your coach cannot see your workout, access your phone, location, or any other personal data. The coach can only see your program progress to help you stay on track.
---
---